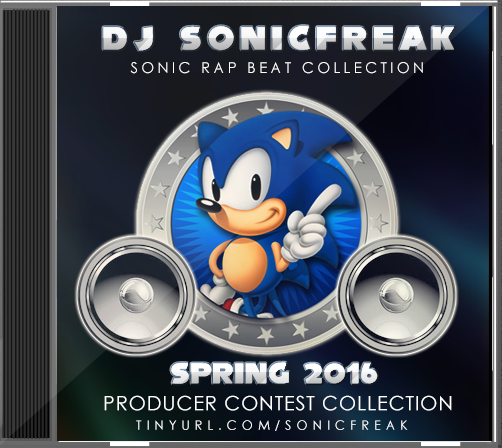 This is the official collection of all the contest entries of the Sonic Rap Beat Spring 2016 Contest!
The track listing order is based off the votes of the 3rd Tier Public Voting and close votes for 2nd Tier Winner.
Due to the mixtures of titles and nameless ones, the tracks are named after producer's names.
The link to their YouTube page is displayed right next to their name in the tracklisting below.
You can also find the same list within the .zip in the "Credits.txt" file too.
01 - [Merodi]
[You must be registered and logged in to see this link.]
02 - [D.Rabb]
[You must be registered and logged in to see this link.]
03 - [Kanji Kobayashi]
[You must be registered and logged in to see this link.]
04 - [ALFL]
[You must be registered and logged in to see this link.]
05 - [Soul Lo.]
[You must be registered and logged in to see this link.]
06 - [Kensabeast]
[You must be registered and logged in to see this link.]
07 - [Prophet The Prince]
[You must be registered and logged in to see this link.]
08 - [BsterTheProducer]
[You must be registered and logged in to see this link.]
09 - [Pyrex The Enigma]
[You must be registered and logged in to see this link.]
10 - [GeoProductions]
[You must be registered and logged in to see this link.]
11 - [OVBeatz]
[You must be registered and logged in to see this link.]
12 - [DJ Lo-Key]
[You must be registered and logged in to see this link.]
13 - [TheHuskyK9]
[You must be registered and logged in to see this link.]
14 - [RetroBunnie]
[You must be registered and logged in to see this link.]
15 - [Amorphous]
[You must be registered and logged in to see this link.]
16 - [Jackson Beatz]
[You must be registered and logged in to see this link.]
17 - [DJ KD/2 STUDIOS]
[You must be registered and logged in to see this link.]
18 - [GNeTik]
[You must be registered and logged in to see this link.]
19 - [DJ Stompaddict]
[You must be registered and logged in to see this link.]
20 - [Raikage Beats]
[You must be registered and logged in to see this link.]
21 - [BashDup]
[You must be registered and logged in to see this link.]
22 - [Freakatron]
[You must be registered and logged in to see this link.]
For the official YouTube Videos, you can check out the playlist in the link below.
[You must be registered and logged in to see this link.]
Google Drive Server:
[You must be registered and logged in to see this link.]

Zippyshare Server:
[You must be registered and logged in to see this link.]