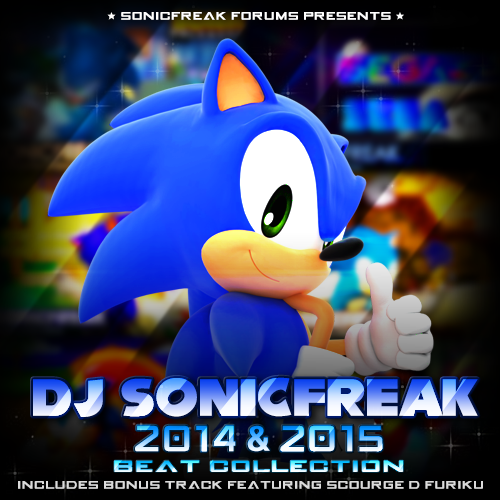 Sup everyone? Hope everyone enjoyed X-Mas EP I dropped yesterday. While I am releasing EPs and such, I figured to release this collection before the year is over. This contains every Sonic sampled beat I made since 2014. It's a 50+ track collection.
Keep in mind, these are all coming from my current YouTube page "DJSonicFreakChannel" (originally my backup channel, as I lost my first original channel "DJSonicFreak"). So Sonic beats from early 2014, 2013 and so on, are not in this collection, nor am I planning to re-release any (lost the majority of my files anyway).
Hope you enjoy this collection.
01 - SonicFreak Reboot - DJ SonicFreak
02 - Sonic 1 Rap Beat - Green Hill Zone - DJ SonicFreak
03 - Sonic Lost World Rap Beat - Frozen Factory - DJ SonicFreak
04 - Summer Genesis Night - DJ SonicFreak
05 - Knuckles Chaotix Rap Beat- Overture - DJ SonicFreak
06 - Sonic 3 Rap Beat- Credits - DJ SonicFreak
07 - Sonic Soundtest Jam - DJ SonicFreak
08 - SegaSonic Rap Beat- -Hot Pursuit- - DJ SonicFreak
09 - Sonic X Rap Beat - Midori no Hibi - DJ SonicFreak
10 - Sonic Triple Trouble Rap Beat- -Tidal Plant Zone- - DJ SonicFreak
11 - Sonic the Movie Rap Beat - DJ SonicFreak
12 - 16 BiT Sega Genesis Rap Beat - DJ SonicFreak
13 - 16 BiT Sega Genesis Rap Beat 2 - DJ SonicFreak
14 - 16 BiT Sega Genesis Rap Beat 3 - DJ SonicFreak
15 - Espio Ninja Rap Beat - DJ SonicFreak
16 - Sonic Drowning Genesis Rap Beat - DJ SonicFreak
17 - Sonic 2 Rap Beat- -Wing Fortress Zone- - DJ SonicFreak
18 - Sonic CD Desert Dazzle Jam - DJ SonicFreak
19 - Sonic Boom Rap Beat- - Air Fortress- - DJ SonicFreak
20 - Sonic Battle Rap Beat- -Club Rouge- - DJ SonicFreak
21 - Sonic 3 Rap Beat- -Marble Garden Zone Act 1- - DJ SonicFreak
22 - Sonic.EXE Rap Beat - DJ SonicFreak
23 - Dr.Eggman Quote Rap Beat - GET A LOAD OF THIS! - DJ SonicFreak
24 - Sonic X Rap Beat - Chaos Zero - DJ SonicFreak
25 - Sonic X Rap Beat - G.U.N - DJ SonicFreak
26 - Sonic 3 Rap Beat - Endless Mine - DJ SonicFreak
27 - Sonic The Fighters Rap Beat - Aurora Icefield - DJ SonicFreak
28 - Sonic X Rap Beat - Family - DJ SonicFreak
29 - Sonic Unleashed Rap Beat - Apotos Night - DJ SonicFreak
30 - Sonic 2 Rap Beat - Boss Theme - DJ SonicFreak
31 - Sonic 1 Rap Beat - Boss Theme - DJ SonicFreak
32 - Sonic 3 Rap Beat - Boss Theme Act 1 - DJ SonicFreak
33 - Knuckles Chaotix Rap Beat - Evening Star - DJ SonicFreak
34 - Shadow the Hedgehog Quote Rap Beat - DON'T TOUCH IT! - DJ SonicFreak
35 - Genesis Different - DJ SonicFreak
36 - Sonic Advance Rap Beat - Boss Theme - DJ SonicFreak
37 - Sonic Quote Rap Beat - YOU'RE TOO SLOW! - DJ SonicFreak
38 - Sonic Quote Rap Beat - YOU'RE TOO SLOW! [Sizzurp MiX] - DJ SonicFreak
39 - Vector the Crocodile Rap Beat - FIND THE COMPUTER ROOM! - DJ SonicFreak
40 - Sonic R Rap Beat - Resort Island - DJ SonicFreak
41 - Sonic 3 & Knuckles Rap Beat - Doomsday - DJ SonicFreak
42 - Sega CD Bios Rap Beat - DJ SonicFreak
43 - Sonic Unleashed Rap Beat - Mazuri Savannah Citadel Night - DJ SonicFreak
44 - Sonic Mega Collection Rap Beat - Extras Menu - DJ SonicFreak
45 - Sega Master System Startup Rap Beat - DJ SonicFreak
46 - Sonic 2 Rap Beat - Final Boss - DJ SonicFreak
47 - Sonic 2 Rap Beat - Chemical Plant Zone - DJ SonicFreak
48 -  Sonic 2 Rap Beat - Emerald Hill Zone - DJ SonicFreak
49 - Sonic 3 & Knuckles Rap Beat - Sandopolis Zone - DJ SonicFreak
50 - Sonic 3 & Knuckles Rap Beat - Stage Clear - DJ SonicFreak
51 - Memory Lane - DJ SonicFreak
52 -  Sonic X Rap Beat - Charmy Crying - DJ SonicFreak
53 - Sonic Lost World Rap Beat - Frozen Factory 2 - DJ SonicFreak
54 - Sonic Advance 3 Rap Beat - Twinkle Snow Map - DJ SonicFreak
55 - Sonic Advance Rap Beat - Ice Mountain - DJ SonicFreak
BONUS - SA2B Rouge Rap Beat -  Dry Lagoon - Scourge D Furiku & DJ SonicFreak
Dropbox Server:
[You must be registered and logged in to see this link.]