INTRODUCTION
Imagine Sonic the Hedgehog but in Grand Theft Auto (and no, Shadow the Hedgehog doesn't come close). Imagine if it had the world of Sonic, but also the world of other video game characters like Mario and Pokemon. What if anime characters were thrown in this GTA world as well, like Dragon Ball Z, Naruto, One Piece and etc.

Well, behold, I present you Grand Theft Auto: SonicFreak Edition!
ABOUT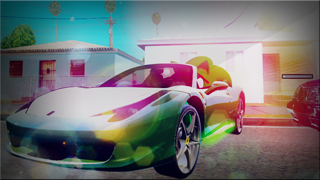 GTA SonicFreak Edition
is a total conversion mod for
GTA San Andreas
for PC. Despite it being a 2004 game, it has been revamped with modern textures and graphics. This will be complete with a giant world of various video game characters, anime characters and even a few cartoon characters as well. Gameplay is pretty much the same but with enhanced customization and bonuses like super powers.
FEATURES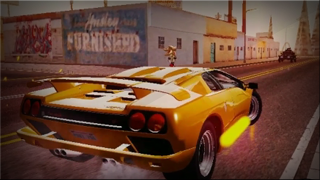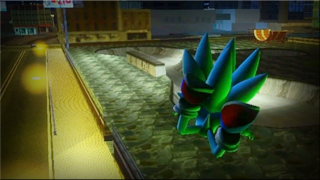 GTA SonicFreak Edition features some new gameplay and customization features, such as:


Mod Menu for enhanced car customization & neon lights

Mod Menu for time, weather, traffic and cop stars

Teleport Menu for various locations around the map

The ability to fly like Superman

The ability to shoot a destructive Kamehameha beam to wreck hovac

The ability to launch an explosive blast to wreck all cars and enemies

The ability to spawn custom characters/gang members

CHARACTERS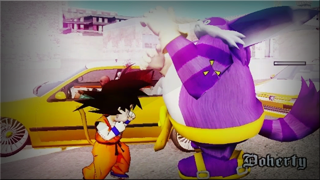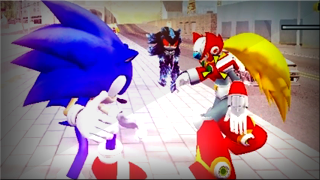 There are more than
200
character models in
GTA San Andreas
. All characters will be replaced with a huge set of Sonic, Mario, Pokemon, DBZ, One Piece, Starfox characters and a few easter egg ones from various cartoons, video games and other animes. All of them 100% playable and free at your choosing.
CITY GANGS
Like in GTA San Andreas there are gangs located around the cities. Here is the list the gangs, which also lists the characters/gang member it replaces.
MAIN GANGS
The main three you will see in the game.


Sonic the Hedgehog/Chaotix Gang (replaces Grove Street)

Sonic (CJ), Tails (Sweet), Shadow (Ryder), Eggman (Big Smoke), Espio (Gang Member 1), Vector (Gang Member 2), Charmy (Gang Member 3).

Mario Brothers Gang

Mario (Gang Member 1), Luigi (Gang Member 2), Yoshi (Gang Member 3).

Pokemon Gang

Ash (Gang Member 1), Pikachu (Gang Member 2), Raichu (Gang Member 3).

Side Gangs
These gangs show up from time to time in the deep cities. They will attack if provoked.


Inu-Yasha

Inu-Yasha (Gang Member 1), Sesshomaru (Gang Member 2), Shippo (Gang Member 3).

Digimon Gang

Tai Kamiya (Gang Member 1), Remamon (Gang Member 2), Sakuyamon (Gang Member 3).

Strawhat Gang

Luffy (Gang Member 1), Zoro (Gang Member 2), Usopp (Gang Member 3), Law (Gang Member 4).

DBZ Gang

Goku (Gang Member 1), Vegeta (Gang Member 2), Future Trunks (Gang Member 3).

Naruto Gang

Naruto (Gang Member 1), Sasuke (Gang Member 2), Kakashi (Gang Member 3).

CONTROLS
This mod contains a lot of custom controls and options. To make it easy, this will be broken down in multiple sub-sections.
CHARACTER SELECTION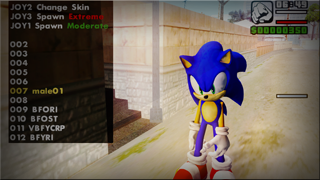 By default you are the main protagonist of GTA San Andreas known as CJ. To play as the modded characters, you must activate the character select menu.
To active the character select menu, press " TAB + Q + E "
You have 3 options.
"Normal Peds" = Features all the characters 150+
"Special Actors" = Select main characters 10+
"Add-On Actors" = Ignore
After you access a menu, you can either change or spawn a character.
*Warning – Selecting Spawn Extreme will crash the game.
SKIN SELECT GUIDE
I will have a guide for every single character added in the game that follows the character select format . As a page is completed it will be updated into the spoiler all in order. Click on the spoiler to access the character skin select guide.
Spoiler:
WEAPONS MENU
To access all the weapons, type in " ARMS " to activate the weapons menu. Any weapon you select will have infinite ammo.
CAR SELECT MENU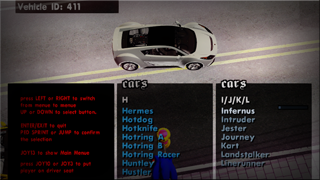 To access the car menu press key " 7 " to bring up the car select menu. You can also spawn boats, planes and helicopters too.
ADVANCED CAR CUSTOMIZATION + MOD MENU
To access the advanced car customization & mod menu, press key " 5 "  while in a vehicle.
From here you can control misc. options on the left, such as speed and invincibility. On the right, you can access animation menus, camera menus and environment menu, which controls weather and cop stars. The rest of the menus will be broken down below.
Main FeaturesTuning
Here, you can access and change your car's paint job. Unfortunately some parts will not work on cars, such as rims and spoilers, due to the cars in this game being custom imported ones.
Neon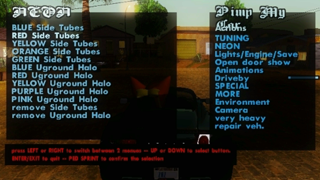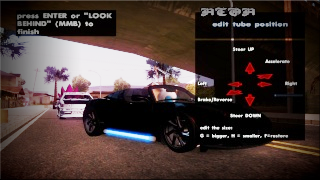 This menu is pretty self explanatory. You can add and adjust positions of neon lights on your car. You can even add a neon shadow below you car by selecting U-Ground lights.
SUPER POWERS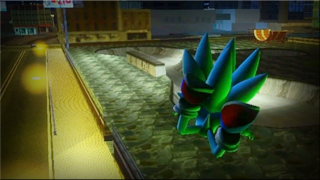 Hyper Beam
Press and hold " Shift + H " to activate Hyper Beam Blast.
Fly & Super Speed
To fly press " Crotch + Jump " to jump launch and fly. Press " Y "  to decrease power.  Press " N " to increase power. The more power, the faster the flying and run.
Super Explosion
Press " P  " to load bombs, then press " 1 " anytime you want to  nuke !$%# up!
Swirl Bomb
Press and hold " INSERT " key to launch swirl bomb.
Suicide Explosion
Press " DELETE "  to activate suicide bomb. (This will waste your character)
Teleportation
Press key " 6 " to activate teleportation menu. You can easily travel to different cities.
SOUNDTRACK
The Soundtrack in this game will be replaced. All radio stations and menu music will have custom music produced by me as DJ SonicFreak and a couple of other producers.
As of now, the music is not planned until later releases of the GTA SonicFreak Edition.
BUGS & GLITCHES
These are the known bugs and glitches that I've encountered so far. Some of these are fixable and some of them are not.


Game crashes upon entering and exiting any Clothing, Tattoo or Barbershop stores. This makes the second mission with Ryder where you enter the Barbershop, impossible to complete.

Character models large or small in size tend to clip through car models or walls.

Game may crash if too many cheats are used in game.

Game may freeze or crash randomly upon selecting certain character models or cars.

Some road or plant textures may appear white or glitchy in some areas.

For anymore game breaking bugs, please be sure to report.
GAMEPLAY VIDEO
DOWNLOAD
A download for this isn't available yet, but as this project progresses, you can expect a playable BETA download at some point.
CREDITS


GTA Inside (For various cleo scripts and skin models)

GTA Indonesia (For Naruto and One Piece skin models)

Gombolori/Yunwii (For various Pokemon and Digimon models)

TheGameSkiner (For some of the Sonic models)

3DS Max & Photoshop (without these, most of these mods can't be made)